5.79 Indonesian Megalodon Shark Tooth 100% NATURAL / #91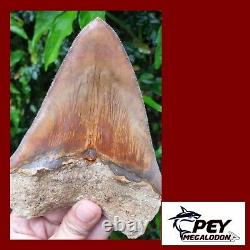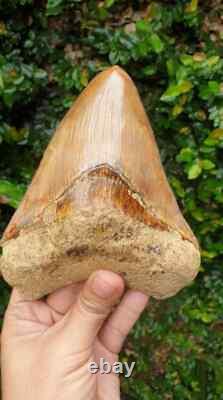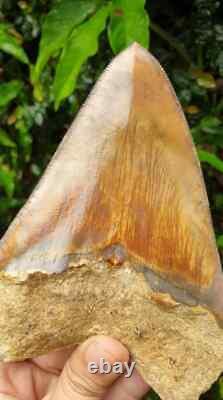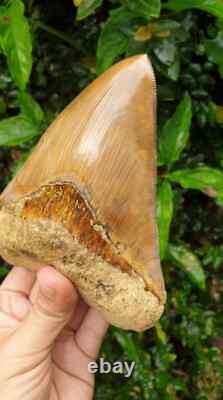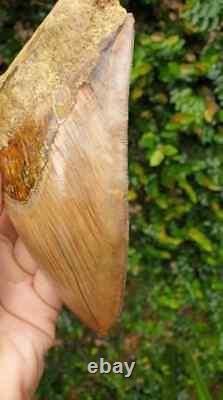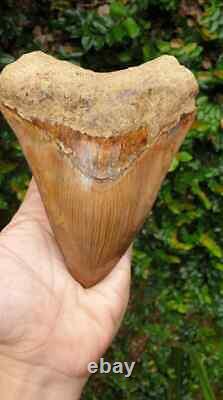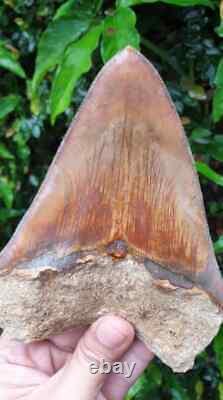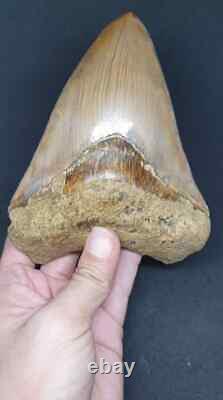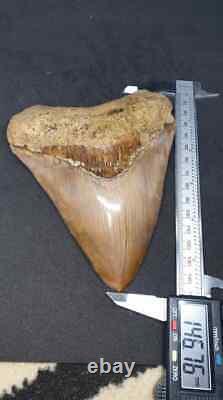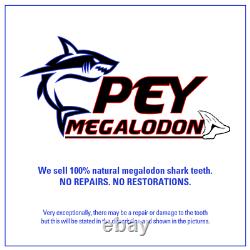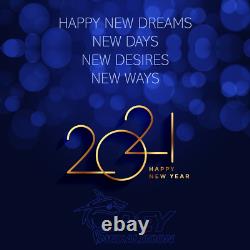 MEGALODON SHARK TOOTH FROM INDONESIA. Since 1983 I have been a shark teeth collector, especially Megalodon teeth. Recently I decided to sell Megalodon teeth as a business. My business partner is promoting his Megalodon teeth on various social media.
So dont be surprised if you see the Megalodon teeth, which I offer here, appear on other pages. For the avoidance of doubt and to exclude all misunderstandings, all the Megalodon teeth offered here are owned by 1 person: my business partner. We work on an honest and clear basis. Thank you and enjoy my site!
1 Your tooth will be. But we ask for your. Delay due to the Covid situation.
Please contact me if you have. About a tooth or how I. Thank you for your interest! Bonjour à tous, je m'appelle Nico et je viens de Belgique.
Depuis 1983, je suis collectionneur de dents de requin, en particulier de dents de Megalodon. Récemment, j'ai décidé de vendre les dents Megalodon en tant qu'entreprise. Je travaille maintenant avec un vendeur de dents Megalodon renommé d'Indonésie.
Mon partenaire commercial fait la promotion de ses dents Megalodon sur divers médias sociaux. Je fais la promotion des mêmes dents Megalodon sur ce site.
Ne soyez donc pas surpris si vous voyez les dents Megalodon, que je vous propose ici, apparaître sur dautres pages. Pour éviter toute ambiguïté et pour exclure tout malentendu, toutes les dents Megalodon proposées ici sont la propriété d'une seule personne: mon partenaire commercial. Comme vous le savez, il y a beaucoup d'imposteurs qui volent des photos de dents de Megalodon à d'autres personnes et essaient de faire du profit en vendant des dents qui ne leur appartiennent pas. Nous travaillons sur une base honnête et claire.
Si vous avez des questions, vous pouvez toujours me contacter via le lien «Contacter le vendeur» ci-dessus. Merci et profitez de mon site! 1 Votre dent sera expédiée d'Indonésie. 2 L'expédition prend environ 6-8 jours ouvrables, mais nous demandons votre. Compréhension de tout retard dû à la situation Covid.
3 Veuillez noter qu'il peut y avoir des frais de douane. N'hésitez pas à me contacter si vous avez des questions sur une dent ou comment je travaille. Il me fera plaisir de vous aider. Hallo allerseits, mein Name ist Nico und ich komme aus Belgien. Seit 1983 bin ich Haifischzahnsammler, insbesondere Megalodon-Zähne.
Kürzlich habe ich beschlossen, Megalodon-Zähne als Geschäft zu verkaufen. Ich arbeite jetzt mit einem renommierten Megalodon-Zahnverkäufer aus Indonesien zusammen. Mein Geschäftspartner bewirbt seine Megalodon-Zähne in verschiedenen sozialen Medien.
Ich bewerbe die gleichen Megalodon-Zähne auf dieser Seite. Seien Sie also nicht überrascht, wenn Sie die Megalodon-Zähne, die ich hier anbiete, auf anderen Seiten sehen. Um Zweifel zu vermeiden und alle Missverständnisse auszuschließen, gehören alle hier angebotenen Megalodon-Zähne einer Person: meinem Geschäftspartner. Wie Sie wissen, gibt es viele Betrüger, die Bilder von Megalodon-Zähnen von anderen Menschen stehlen und versuchen, durch den Verkauf von Zähnen, die ihnen nicht gehören, Gewinn zu erzielen.
Wir arbeiten ehrlich und klar. Wenn Sie Fragen haben, können Sie mich jederzeit über den obigen Link Verkäufer kontaktieren kontaktieren. Vielen Dank und viel Spaß auf meiner Seite! 1 Ihr Zahn wird aus Indonesien verschickt. 2 Der Versand dauert ca. 6-8 Werktage, wir bitten Sie jedoch um Ihre. Verständnis für Verzögerungen aufgrund der Covid-Situation. 3 Bitte beachten Sie, dass möglicherweise Zollgebühren anfallen. Wir bedanken uns für ihr Verständnis. Bitte kontaktieren Sie mich, wenn Sie Fragen zu einem Zahn oder meiner Arbeitsweise haben. Es wird mir eine Freude sein, Ihnen zu helfen. Hallo allemaal, mijn naam is Nico en ik ben van België. Sinds 1983 ben ik een verzamelaar van haaientanden, vooral Megalodontanden. Onlangs besloot ik om Megalodontanden te verkopen in een zakelijk kader. Ik werk nu samen met een gerenommeerde Megalodontanden-verkoper uit Indonesië. Mijn zakenpartner promoot zijn Megalodontanden op verschillende sociale media. Ik promoot dezelfde Megalodontanden op deze site. Wees dus niet verbaasd als je de Megalodontanden, die ik hier aanbied, op andere pagina's ziet verschijnen.
Voor alle duidelijkheid en om alle misverstanden uit te sluiten, alle Megalodontanden die hier worden aangeboden, zijn eigendom van 1 persoon: mijn zakenpartner. Zoals U weet, zijn er veel bedriegers die foto's van Megalodontanden van andere mensen stelen en winst proberen te maken door tanden te verkopen die niet van hen zijn.
We werken op een eerlijke en duidelijke basis. Als u vragen heeft, kunt u altijd contact met mij opnemen via de bovenstaande link "Contact opnemen met verkoper". Bedankt en veel plezier op mijn site!
1 Uw tand wordt verzonden vanuit Indonesië. 2 Verzending duurt ongeveer 6-8 werkdagen, maar we vragen naar uw. Begrip voor eventuele vertraging als gevolg van de Covid-situatie.
3 Houd er rekening mee dat er mogelijk douanekosten in rekening worden gebracht. Neem gerust contact met mij op als u vragen heeft over een tand of hoe ik werk. Ik help u graag verder. The item "5.79 Indonesian Megalodon Shark Tooth 100% NATURAL / #91" is in sale since Friday, January 15, 2021. This item is in the category "Collectibles\Rocks, Fossils & Minerals\Fossils\Vertebrates\Shark Teeth".
The seller is "rogeconge-0" and is located in Hamme. This item can be shipped worldwide.
Modified Item: No
Country/Region of Manufacture: Indonesia
Featured Refinements: Shark Tooth