Huge Carcharodon Megalodon tooth! 3&5/8inch! Fossil Shark Tooth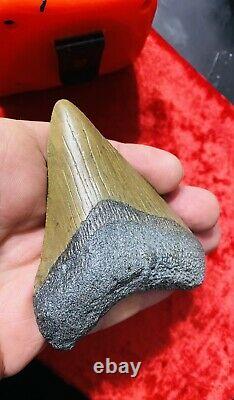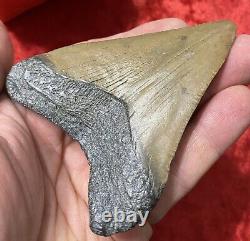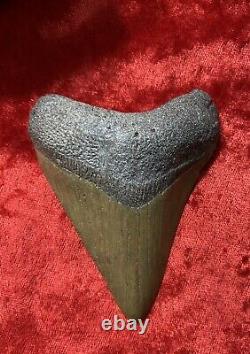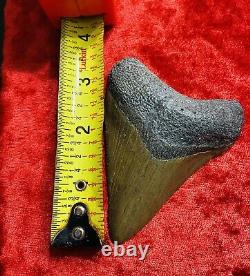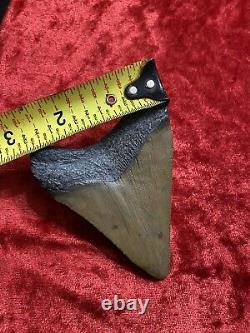 The megalodon, which went extinct millions and millions of years ago, was the largest shark ever to hunt the oceans and one of the largest fish on record. The scientific name, Carcharocles megalodon, means "giant tooth, " and for good reason, because Its massive teeth are almost three times larger than the teeth of a modern great white shark. These teeth are really amazing valuable collectibles and are highly sought after. Great whites are the world's largest predatory fish today, and can grow to be about 15 to 20 feet (4.6 to 6.1 meters) or more and can weigh more than 5,000 lbs.
Still small compared to the shark that this tooth belonged to. Though massive, the great white is not the biggest shark. This classification goes to the whale shark, which is not considered a predatory fish, and isnt as big as the ancient megalodon. This tooth had a little damage on one side and was given professional restoration. Meg teeth hold great value with restoration applied, given the fact that perfect unrestored ones sell for thousands of dollars sometimes, this is the only way to afford them in a better price range. The gigantic megalodon's fossilized bones and teeth often give scientists important clues about what the creature was like and when it died off. All signs of the megalodons existence ended 2.6 million years ago according to the current fossil record. A very small portion of some study's data 6 out of 10,000 simulations showed a 1% chance that these giant sharks could still be alive!! That chance seems pretty slim, but isnt that cool to ponder!
The ocean is huge after all... So why couldnt it harbor a few more of these big guys? No scientist has discovered any recent evidence of the megalodon and not even fossils that are any younger than 2.6 million years old, leading the scientists to agree that megalodons are most likely long gone.
The megalodon was a gigantic creature, but possibly not as big as you think. There are a lot of arguments in the scientific world about the animal's actual size.
Going solely by the size of the teeth, some believe that the shark could have possibly grown up to 60 feet long (18 meters), while others think that about 80 feet (25 m) long is more likely. For comparison, modern great white sharks (Carcharodon carcharias) reach lengths of 20 feet (6 m). Whats so cool is that the teeth of this ancient beast are still found and heavily sought after today.
There are many factors that influence the value of a megalodon tooth, such as size, color, damage, and many more things. I Hope you enjoy this awesome tooth! The item "Huge Carcharodon Megalodon tooth!
Fossil Shark Tooth" is in sale since Friday, December 11, 2020. This item is in the category "Collectibles\Rocks, Fossils & Minerals\Fossils\Vertebrates\Shark Teeth". The seller is "artifactboxer" and is located in Asheboro, North Carolina.
This item can be shipped to United States.