Mako Sharks Tooth pendant BEAUTIFUL! Fossil sharks teeth tooth/ megalodon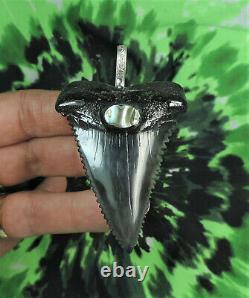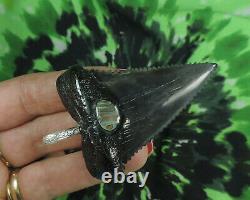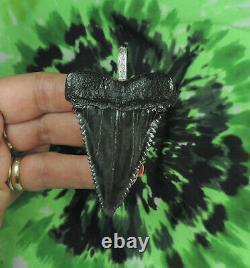 BEAUTIFUL MAKO SHARKS TOOTH NECKLACE. THE SHARKS TOOTH WAS FOUND ON THE EAST COAST AND IS FROM THE OLIGICENE TO THE PLEISTOCENE AGE, FROM 1 MILLION TO 30 MILLION YEARS OLD. THEY ARE ALL WELL MINERALIZED AND GRADED TO MAKE THE NICEST PENDANTS WE CAN MAKE.
OUR FOCUS IS ON THE ACTUAL TOOTH AND NOT BEADS OR ADD ONS. THE METAL WE USE TO MAKE OUR POSTS OR WRAP OUR TEETH IS EITHER HIGH GRADE GOLD FILLED WIRE WHICH WILL NOT TARNISH, OR STERLING SILVER WIRE. SIZE WITH THE BAIL: 3 1/16'' LONG.
HUGE, IMPRESSIVE, HAND SERRATED WITH ABALONE SHELL. WIRE: 925 STERLING SILVER, HANDMAID ITEM #V2 MILLIONS OF YEARS AGO, DURING THE MIOCENE TIME PERIOD, THE OCEAN WAS RAVAGED BY ONE OF THE LARGEST AND MOST FURIOUS SHARKS TO HAVE EVER EXISTED. WITH ADULT SHARKS REACHING LENGTHS OF CLOSE TO 65 FEET, AND MAXIMUM TOOTH SIZE OF 7 1/16 INCHES, THIS WAS BY FAR THE MOST DEADLIEST PREDATOR TO HAVE EVER ROAMED THE OCEANS.
FORTUNATELY THESE SHARKS ARE LONG GONE AND BECAME EXTINCT AROUND THE PLIOCENE EPOCH , ABOUT 2 MILLION YEARS AGO. THE FOSSILIZED REMAINS OF THE MEGALODON CAN BE FOUND WORLD WIDE. IF YOU GET A BIG TOOTH, IT IS EVEN MORE AWESOME AS THEN YOU GET TO IMAGINE THE SIZE THE SHARK WOULD HAVE BEEN AND THE FACT THAT THE SHARK HAD ROW UPON ROW OF TEETH THAT WERE RAZOR SHARP. FOR THOSE WHO DO NOT UNDERSTAND PRICE IT IS VERY SIMPLE.
TEETH ARE BROKEN DOWN IN VARIOUS WAYS BY MOST DEALERS AND COLLECTORS. YOU START WITH THE HIGHEST PERCENT FOUND AND THAT IS POUNDAGE MATERIAL. THIS QUALIFIES AS HALVES AND PIECES, UP TO TEETH THAT ARE EVEN TIPPED OR HAVE A ROOT BUSTED AT THE CORNER. THIS IS BY FAR THE MOST AFFORDABLE TEETH, AND THE MOST SOUGHT AFTER BY DEALERS. SO FOR THOSE WHO THINK THEY CAN BY PARTIALS FOR PENNIES, THOSE DAYS WERE OVER AFTER THE SEVENTIES!!
COMPLETE TEETH ARE GRADED AS COMMERCIAL UP TO A GRADE, MUSEUM QUALITY TEETH. SIZE IS GRADED FROM SMALL TO LARGE AND AFTER THE MAGICAL 6 INCH MARK THE TEETH CAN SKY ROCKET IN VALUE. REPAIRED TEETH HAVE COME ALONG WAY.
I HAVE ONLY ONE THING TO SAY AND IT IS VERY SIMPLE. FOR THOSE WHO INVEST IN TEETH, THIS IS NEWS TO THE EARS AS YOU CAN ONLY FIND SO MUCH, AND YES, THEY WILL RUN OUT AND EVENTUALLY THE FINDS WILL NOT SUPPORT THE DIVERS OUT THERE. MY FINDS ARE MINIMAL COMPARED TO MANY YEARS AGO. WE WILL WORK WITH ANYONE AS LONG AS YOU ARE HONEST AND UP FRONT. OUR HISTORY: MY NAME IS MATTY SWILP AND I HAVE BEEN DIVING AND COLLECTING FOSSILS SINCE I WAS ABOUT 6 YEARS OLD.
MY FATHER GOT ME STARTED BY TAKING ME AND MY BROTHERS TO THE LOCAL SAND MINES IN SUMMERVILLE SOUTH CAROLINA WHERE WE HUNTED SHARKS TEETH. WHEN I WAS ABOUT 18 I STARTED DIVING HEAVY AND EVENTUALLY MOVED TO BEAUFORT SOUTH CAROLINA WHERE I OPENED A STORE CALLED "STONES & BONES" WHICH MY MOTHER OPERATED FOR ABOUT 10 YEARS. I ALSO WORKED AS A PREP ARTIST IN THE CHARLESTON MUSEUM EARLIER , AND HAVE DONATED THOUSANDS OF ITEMS THROUGHOUT THE COUNTRY. I LOVE DIVING AND COLLECTING AND NOW HAVE THE WONDERFUL TIME OF SHARING MY ADVENTURES WITH MY WIFE AND CHILDREN. I CAN SAY MY OLDER DAUGHTER HAS HAD GREAT TIMES TAKING VARIOUS FOSSILS TO SCHOOL FOR SHOW AND TELL.
MY WIFE RUNS E-BAY NOW AND WHEN SHE CAN SHE IS MY BOAT CAPTAIN. WHEN WE ARE DOWN SOUTH I TAKE MY KIDS TO THE RIVERS AND OCEAN TO RIDE AND SEE NATURE AND THE DOLPHINS. DIVING FOR FOSSILS HAS BEEN THE MOST REWARDING ASPECT OF MY LIFE IN THAT I HAVE SEEN AND SPENT PRICELESS HOURS OUT IN NATURE AND SHARED MUCH OF MY LIFE WITH MY FATHER WHO HAS BEEN MY BOAT CAPTAIN FOR WELL OVER 15 YEARS. WEATHER I FIND ONE BROKEN TOOTH OR NOTHING, I LOVE BEING OUT ON THE WATER AND EXPLORING. PLEASE ENJOY MY FINDS AND FOSSILS AS I PRESENT THEM FOR SALE ON E-BAY.
I LOVE WHAT I DO, AND I LOVE MORE THAN ANYTHING THE JOY OTHER PEOPLE HAVE WHEN THEY BEHOLD SOME OF THE FOSSILS I FIND. WE HAVE A SPECIAL AND ONE OF A KIND PLANET THAT HAS AN INCREDIBLE HISTORY.
IT IS MY PLEASURE TO MEET ALL OF YOU, AND I WANT TO THANK ALL OF YOU , FROM MY CUSTOMERS TO ANYONE WHO ENJOYS FOSSILS. THANKS FOR CHECKING MY E-BAY AUCTIONS. The item "Mako Sharks Tooth pendant BEAUTIFUL! Fossil sharks teeth tooth/ megalodon" is in sale since Friday, June 5, 2020. This item is in the category "Collectibles\Rocks, Fossils & Minerals\Fossils\Vertebrates\Shark Teeth".
The seller is "383matty" and is located in Shamokin, Pennsylvania. This item can be shipped to North, South, or Latin America, all countries in Europe, all countries in continental Asia, Australia.