Megalodon 4.875 Meg Fossil Shark Tooth Lee Creek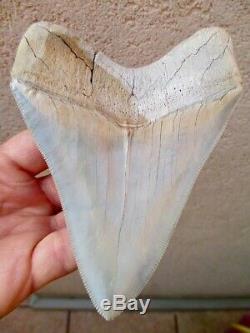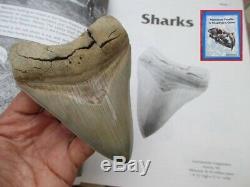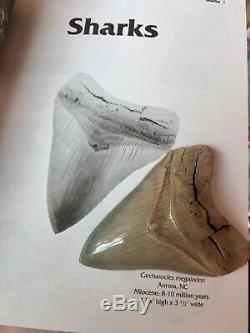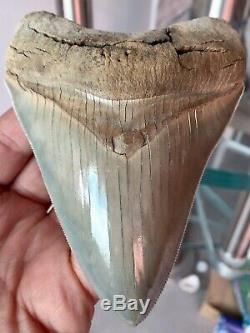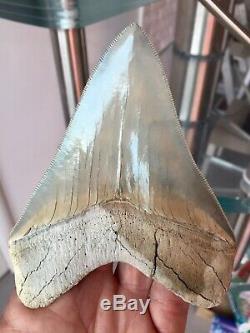 Megalodon 4.875 Meg Fossil Shark Tooth. An hair under gold 5! From North Carolina complete natural without any repair or restoration pristine serration 100% complete NO ONE IS MISSING! Absolutely pristine tip, bourlet 99% untouched. Incredible example of megalodon specie. You can find the photo exactly of this one and location where it was found in the prestigious fossil book printed in several thousands of copy in the last 30 years.
Lee Creek is a mine in Aurora, NC... About a decade or so ago, collectors use to get on a waiting list for their name to be called to be allowed into the mine to hunt for fossils, mostly sharks teeth.
You had to take a bus into the mine and the mine controlled where you were allowed to hunt. Out of a full bus load of collectors... One 4 inch Meg might be found. It wasn't like because your name was called.... You walked into the mine and started pulling perfect 6 inchers out of the ground. It was still rare to find a nice 4 or 5 incher... And very very few 6 inchers were ever found. Then there was some drama with the mine, the volunteers, and the collectors and the mine just decided it wasn't worth it anymore and closed it's doors to collecting. That was about a decade ago. Lee Creek teeth pretty much only look one way.
They look exactly like the tooth denny. Mark has for sale and his price is pretty accurate for a tooth of this size and quality. It is considered fairly large for a LC Meg and the condition is outstanding. Teeth found from the LC mine were and are considered by many to hold some of the very best preservation of any location. The serrations are usually as good as they come.
These are land found teeth so the quality is usually light years better than river or ocean teeth. And because the mine is closed to collecting and no more new teeth have been found or will be found.... So you have rarity, quality, and very good size. All the qualities that go into a high dollar specimen. And most seasoned collectors could tell you this was a LC Meg if someone held it up for 3 seconds from across the street. Each location produces its own unique colors. It is kind of like being able to tell that a truck is a Chevy and not a Ford, as it passes you going the other way at 80 mph. Some people wouldn't know the difference between a Ford 350 and Prius but there are a great many people that can.
That is kind of like what sharks teeth collecting is about. There are about a half dozen fairly common and about a half dozen or so fairly rare. Once you learn these dozen or so.... I hope this helps explain why the value is what it is. And don't feel dumb for not knowing.
Nobody was born knowing any of this... Somebody had to tell all of us.... The item "Megalodon 4.875 Meg Fossil Shark Tooth Lee Creek" is in sale since Sunday, February 2, 2020. This item is in the category "Collezionismo\Minerali, fossili e conchiglie\Fossili".mark" and is located in Laorca.
This item can be shipped worldwide.