Megalodon Shark Tooth 6 1/4 x 4 5/8 Huge Upper Anterior Indo Unusual Colours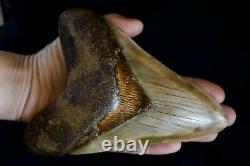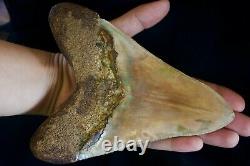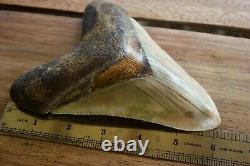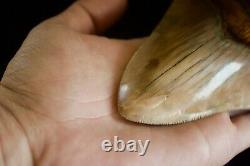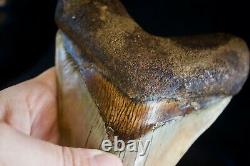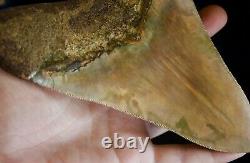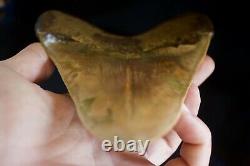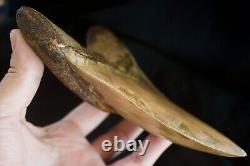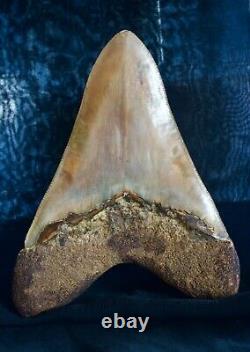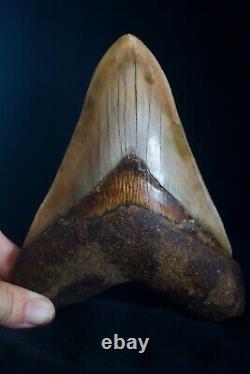 Offered with no reserve is this large upper anterior. 6,24'' x 4,64'' wide. Extra good serrations, sharp and deep, the very tip has feeding wear (see more details below).
Natural root partly smoothened by a professional restorer on the labial side and just a little bit on lingual (lobes' edges). On lingual you clearly see all the natural details and original texture.
Solid, dense & stable surface of good form. Smooth transition to bourlette without any unsual gaps etc. The colour & pattern are the best possible - THE TIGER! Bourlette is natural with 85% enamel surviving, the endings both sides partly professionally restored with putty & artificial lines. Enamel on blade is in excellent condition overall to start with - rare.
On the labial side you see. A narrow chip/peeling (20 mm long) - due to probably an incidental drop rather than a digging kick from lingual.
The narrow part which chipped off on labial was glued back and than polished which resulted in slightly different colour shade on it and part disappearance of the continuation of hailrines (those which come to the edge of the chip from the main body of blade), and also in a slight difference in surrounding colour pattern. Both though (same hairlines & colour patterns) are still visible under a strong loop or microscope. I describe it in such a detail because it took us a while to eliminate the doubts resulting in. Ending the sale 2 days ago. To understand what actually happened. In other words - the whole blade is 100% natural with no insets from an alien tooth. And the serrations on the narrow chip (which peeled off). Had a feeding wear on it, i. The hit had no effect on serrations. Interestingly when the chip happened - it actually split one of the tiny serrations into 2 parts, which is now back to one. Which to us was a final argument, when we saw it under the microscope. It eliminated all the other versions in our detective story - no alien insets : Minor corresponding chip on the tip on lingual (5 mm) is clearly seen on pix. Ivory - to gold bone with greenish shine. At a certain angle you see green, silver, gold & rose shades - outstanding multicolur display. Makes an interesting talking point for both collectors & restorers. General colour ensemble is unusually rich & elegant. Should it be a human being - he will be a Lord. With minor imperfection on his noble nose. Totally symmetrical crown, very good presentation order. Local dealers tend to inset & glue pieces with serrations from the other teeth, often the tip and/or wings, then cover the cracks with glue mixed with the powder obtained from polishing this same enamel, and you will hardly spot this type of repairs with underlying cracks due to near perfect colour match often with matching shades. Local dealers are known to mimick natural bourlettes. They form new bourlette from a gloss putty or glue, sratch it fresh trying to mimick the vertical lines characteristic for natural bourlettes. So please take extra care when inspecting bourlettes on photos elsewhere. With Indonesian megs it is usually hard to spot part repairs on the root. One can hardly differ the matrix material megs are found in - from the original organic fossilised root material. Local dealers use the matrix powder from the formation the tooth have been found in - and mix it with colourless putty or glue. Having been fully absorbed by the root in the course of millions of years - the matrix makes perfect colour match with the original root material. The only indication of part repair in this case would be the amount of cavities and pitting: the more they are - the less repair has probably been done. The uglier the root - the more natural - the more beautiful. That said, in cases where root has mainly survived as opposed to having been fully reconstructed from matrix - detection of part repairs is not that difficult, with us anyway.
We will always advise on such repairs. Local dealers tend to extend the size of the tooth: we've seen 19 cm - 7 examples: They do so by either constructing the blade from pieces of smaller teeth and/or extending the lobes by applying extra putty. We can restore or repair broken teeth, but we normally do the contrary. Dispatch time on the listing says 10 days due to the certificate needs to be obtained for export, but usually faster.
Items to China will be sent via my home address in London due to China/Indo export/import regulations and take 3-4 weeks to reach destination. WILL BE SAFELY PACKED - NO WORRIES. OVER 1 KILO - AT A SPECIAL DISCOUNT. The item "Megalodon Shark Tooth 6 1/4 x 4 5/8 Huge Upper Anterior Indo Unusual Colours" is in sale since Thursday, September 24, 2020.
This item is in the category "Collectibles\Rocks, Fossils & Minerals\Fossils\Vertebrates\Shark Teeth". The seller is "ruboko" and is located in Bali. This item can be shipped worldwide.
Country/Region of Manufacture: Indonesia
Featured Refinements: Shark Tooth