Megalodon Shark Tooth OVER 6 & 7/16 in. SERRATED REAL FOSSIL NO RESTO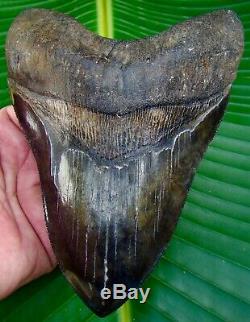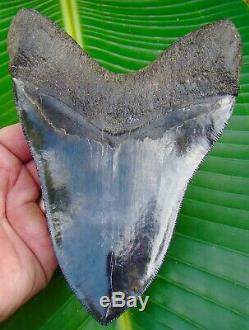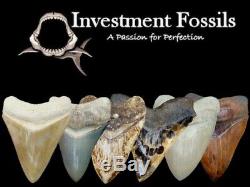 Megalodon Shark Tooth - OVER 6 & 7/16 in. SERRATED - REAL FOSSIL - NO RESTO! There is a reason why. 75% of our sales are from Repeat Customers! OVER 10,000 POSITIVE FOSSIL FEEDBACKS. This tooth was found over a decade ago by a diver in South Carolina and has been in his private collection ever since. T seem to find them this big and this nice anymore. I was extremely lucky to pry it from his fingers. Actually some health issue caused him to let it go.
But as I go on. This one is a MONSTER at over 6 & 7/6 inches. It is exactly on 6.45 inches mark (measured with digital calipers), which is right there almost dead center between 6 & 7/16 and 6 & 1/2 inches. It has outstanding serrations and an intact tip.
No feeding damage on this tooth whatsoever. It is also as heavy as a rock at 19.6 ounces or just shy of 1 & 1/4 pounds. Take into consideration that is believed that the aveage Megalodon shark tapped out at around 5 inch teeth. Most adult sharks did not grow 6 inch teeth and that is why you so so many smaller teeth on the market than large ones.
Every little tiny tick past the 6 inch mark makes a tooth exponentitally more rare. A 6 & 1/16 is much less common than a 6 and a 6 & 1/8 is much less common than a 6 & 1/16 and so forth. This tooth is actually beyond the maximum size that 99.99% of collectors will ever obtain, especially in this condition. Your next bump up is 6 & 3/4 and a tooth of this quality would be listed for double or tripe in price.
T even own a 7 incher and either does any other fossil dealer I know. Those have become so prevalent that they have become a laughing joke in the 7 inch range. So again, restored teeth don. T count for anything in the Megalodon world in terms of size.
T lie and say this isn. One of the beauties of collecting high end sharks teeth (they go up in value). Ill end it here and let you view the pictures.
100% Natural Megalodon Shark Tooth from South Carolina. No repairs and No restorations.
Nothing man made has been added to this tooth. This Megalodon shark tooth is in its NATURAL State of Recovery, just like fossils are suppose to be, and will make all the difference in the world if you ever need to resell it one day. I do NOT sale fake teeth or plastic molds. We do NOT measure our teeth on a ruler and round up. Why would you should be the question.
We do NOT list low quality commercial grade teeth as "Gems" or World Class. We do NOT hide flaws during photographing. Please read the question and answer section below. I charge what the post office charges.
Because if the package weighs 16 ounces or less, and 99% of them do, than the United States Postal Service does not require one. Question #3: Do you have a website? There is never such thing as a stupid question, and I answer all my emails personally. _gsrx_vers_855 GS 7.0.19 (855). The item "Megalodon Shark Tooth OVER 6 & 7/16 in. SERRATED REAL FOSSIL NO RESTO" is in sale since Sunday, October 27, 2019.
This item is in the category "Collectibles\Rocks, Fossils & Minerals\Fossils\Vertebrates\Shark Teeth". The seller is "sydni816" and is located in Bradenton, Florida. This item can be shipped worldwide.
Country/Region of Manufacture: United States
Featured Refinements: Megalodon Tooth