Megalodon Shark Tooth OVER 6 in. NOT FAKE REAL FOSSIL NO RESTORATIONS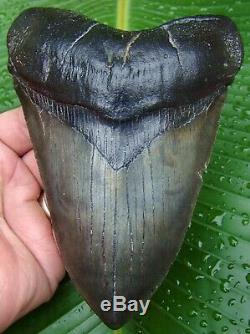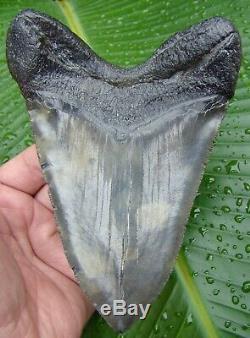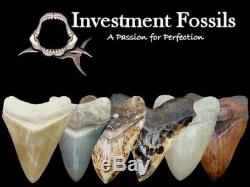 Megalodon Shark Tooth - OVER 6 in. NOT FAKE - REAL FOSSIL - NO RESTORATIONS. There is a reason why. 75% of our sales are from Repeat Customers! OVER 10,000 POSITIVE FOSSIL FEEDBACKS.
This tooth was found while diving a river in South Carolina, USA. This is a 100% Natural specimen. It is in its Natural State of Recovery just like mother. Nothing man made has been added to this tooth to stretch the. Tooth is 6.02 inches.
Please dont confuse this tooth with a North Carolina Ocean toothI sell both locationsand there is absolutely no comparison. River teeth are light years more uncommon than Ocean teeth. Ocean teeth are simply sitting on the bottom of the sea floor where they were deposited millions of years agobut you have to dive 120 feet down and risk your life to get themnot easy.
River teeth however are deposited the same way but the ocean bottom has now become land with trees on top, roads, and houses. A river cuts through this land and pulls the teeth out of said land, river banks, and into the rivers themselves. As you can imagine there is much less teeth in the rivers as there are on ocean bottoms. With Ocean teeth you have the entire sea floor to hunt for fossilsbut in the riversyou are stuck to a thin strip of water that has cut through the land.
And because these rivers have been picked over for decadesthere are less and less teeth coming out of the rivers anymore. So to anchor your boat and drop down and find a 6 incher that no one else has discovered over the last 4 or 5 decades is pretty remarkable in 2020. This one above is the extreme exception to that norm. And as like anything else in lifethe more there arethe less valuable they become. And of course the opposite is true then as well. The less there arethe more valuable. They become and the more they retain their value. The above is simply the reason why you see a huge price difference between the black river teeth and the lighter colored Ocean teeth. No Repairs and No Restorations! I do NOT sell fakes, plastic molds, or replicas of any kind. ONLY the real deal here! We do NOT measure our teeth on a ruler and round up. We use digital calipers for accuracy. We do NOT list low quality commercial grade teeth as "Gems" or World Class. We do NOT hide flaws during. Please read the question and answer section below. Question #1: Do you offer a COA with your fossils?
A: Because there is no such thing as an independent 3rd party to send your fossils to for grading. And certifying, as there is with rare gems, coins, or even baseball cards, there is no such thing as. Anybody offering you one is simply printing one off their home computer to.
Try and make you feel all warm and fuzzy inside. But you and I both know it is a huge conflict of. I would be very skeptical of anyone trying to offer you a COA with any fossil in the world. But to be perfectly honest, the only people asking for COAs are. Fossil world, all we have is our reputation and mine has been flawless.
For the past 20 + years. Better for useven better for you. That specifies the value or the contents.
Because if the package weighs 16 ounces or less, and. 99% of them do, than the United States Postal Service does not require one.
Any questions you may have in regards to this matter -- Approximately 50-60% of all our auctions are. Won by customers who reside in countries other than the United States. States is NOT a problem.
_gsrx_vers_1151 GS 8.0.11 (1151). The item "Megalodon Shark Tooth OVER 6 in. NOT FAKE REAL FOSSIL NO RESTORATIONS" is in sale since Wednesday, May 27, 2020. This item is in the category "Collectibles\Rocks, Fossils & Minerals\Fossils\Vertebrates\Shark Teeth". The seller is "sydni816" and is located in Bradenton, Florida. This item can be shipped to United States.
Featured Refinements: Megalodon Tooth