Megalodon Shark Tooth Serrated Blade Real Fossil 4.67 No Restoration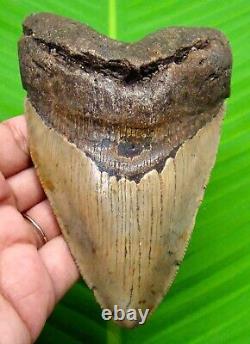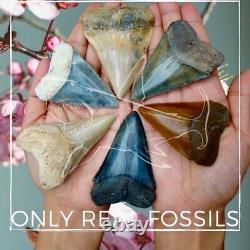 MEGALODON SHARK TOOTH - SERRATED BLADE - REAL FOSSIL - 4.67 - NO RESTORATION. Age: 2 to 14 Million years old.
Location of find: North Carolina, USA. His tooth is a 100% genuine fossil, untouched by restorations. The serrations along the edges of this tooth demonstrate the predatory prowess of the Megalodon, allowing it to efficiently tear through its prey. With its impressive size and authenticity, this tooth serves as a remarkable testament to the awe-inspiring nature of these ancient giants. Owning this Megalodon Shark Tooth provides a tangible link to a time when these enormous predators ruled the ancient oceans, allowing you to appreciate the raw power and greatness of this extinct species. NO Repairs and No Restorations. _gsrx_vers_1436 GS 9.0.5 (1436).