Megalodon Shark Tooth XXL -6.20 in. NOT FAKE REAL FOSSIL NO RESTORATIONS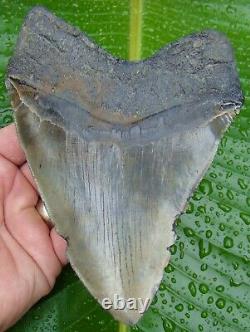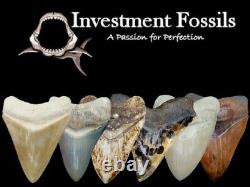 Great White Shark's Teeth. Megalodon Shark Tooth - XXL -6.20 in.
NOT FAKE - REAL FOSSIL - NO RESTORATIONS. This tooth was found while diving a river in South Carolina, USA. This is a 100% Natural specimen. It is in its Natural State of Recovery just like mother.
Nothing man made has been added to this tooth to stretch the. Tooth is 6.205 inches. Please don't confuse this tooth with a North Carolina Ocean tooth... And there is absolutely no comparison.
River teeth are light years more uncommon than Ocean teeth.... Ocean teeth are simply sitting on the bottom of the sea floor where they were deposited millions of years ago...
But you have to dive 120 feet down and risk your life to get them... River teeth however are deposited the same way but the ocean bottom has now become land with trees on top, roads, and houses.
A river cuts through this land and pulls the teeth out of said land, river banks, and into the rivers themselves. As you can imagine there is much less teeth in the rivers as there are on ocean bottoms. With Ocean teeth you have the entire sea floor to hunt for fossils... You are stuck to a thin strip of water that has cut through the land. And because these rivers have been picked over for decades... There are less and less teeth coming out of the rivers anymore. So to anchor your boat and drop down and find a 6 incher that no one else has discovered over the last 4 or 5 decades is pretty remarkable in 2020. This one above is the extreme exception to that norm.
And as like anything else in life... The less valuable they become. And of course the opposite is true then as well....
They become and the more they retain their value. The above is simply the reason why you see a huge price difference between the black river teeth and the lighter colored Ocean teeth. No Repairs and No Restorations! I do NOT sell fakes, plastic molds, or replicas of any kind. ONLY the real deal here!
Love it or return it. It is as easy as that. Unlike rare coins, gems, and even baseball cards, there is no such thing as an independent 3rd party that grades and certifies fossils... Hence there is no such thing as legit COA's with fossils.
Anybody offering you a COA with any fossil is simply printing one off of their home computer simply because they think you don't know any better and this will gain your trust. The value is in the fossil itself. Nobody cares who found it... And for this reason we choose not to insult you by sending out worthless pieces of paper to gain your trust.
We choose to use our reputation instead. We do NOT sell fakes, replicas, or plastic molds of any kind. We are in the fossil business... Not the children's toy business. Although we can not give out our website name here, we can supply our business name: Investment Fossils. We do not sell anything on our website anymore but there is some good blogs for you to read if you are new to collecting that might just help you get started.
They are free to read and there is no sign up page that you need to fill out to get this information. Megalodon Shark Tooth - 3.61 in.
Megalodon Shark Tooth - 4 & 1/16 in. REAL FOSSIL - NO RESTORATIONS.
Megalodon Shark Tooth - 1.47 in. NEWBORN BABY MEG -REAL FOSSIL - NO RESTORATIONS. Megalodon Shark Tooth - OVER 5 & 1/4 in.
REAL FOSSIL - DEEP OCEAN FOUND MEG. Sign Up to Receive Fossil Updates. This listing is currently undergoing maintenance, we apologise for any inconvenience caused. The item "Megalodon Shark Tooth XXL -6.20 in. NOT FAKE REAL FOSSIL NO RESTORATIONS" is in sale since Wednesday, December 2, 2020.
This item is in the category "Collectibles\Rocks, Fossils & Minerals\Fossils\Vertebrates\Shark Teeth". The seller is "sydni816" and is located in Bradenton, Florida. This item can be shipped to United States.
Featured Refinements: Shark Tooth