Rare Megalodon Shark Tooth Fossil Sharks Teeth PATHOLOGICALLY DEFORMED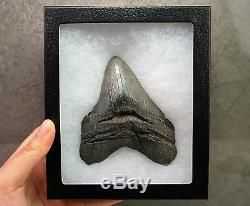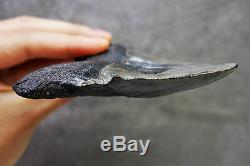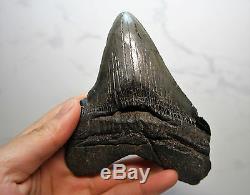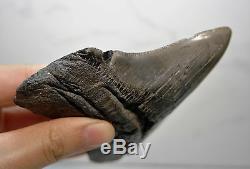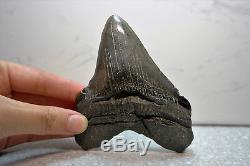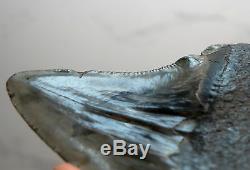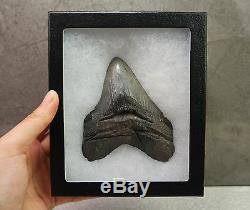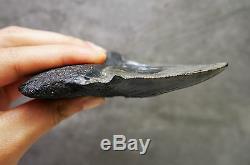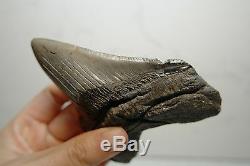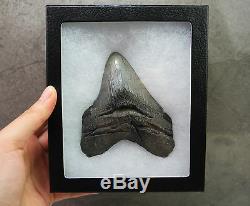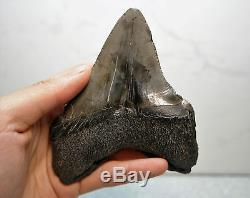 Up for sale is a rare, pathologically deformed Megalodon shark tooth. Most teeth are a normal, triangular shape with the usual enamel/gum ratio.
With this specimen, the enamel is in a crooked position and the gum is very flat and squashed. Also, the ratio between the gum and enamel is quite unbalanced, as you can see. The bottom right corner of the enamel is creased and has a wavy edge.
Pathological Megalodon teeth are very rare and hard to find. This tooth comes with a Riker display box to protect it.
We guarantee this specimen is 100% natural and genuine. 23 to 2.6 million years. 4.292 (109.02 mm). 141.67 grams 4.997 oz. Early Miocene to Late Pliocene. Carcharocles megalodon is an extinct species of megatoothed shark that lived during the early Miocene to late Pliocene epochs of the Neogene period (23 to 2.6 mya). It was one of the largest marine predators to have existed, vastly outweighing the modern Great White Shark and other marine reptiles such as Plesiosaurs and Mosasaurs. Megalodon could grow up to 60 feet (18 meters) and over, weighing approximately one hundred tons.
Its diet consisted mainly of prehistoric whales, dolphins and giant sea turtles; fossilized bones of marine mammals have been found with bite marks matching the teeth of megalodon. If you need more time, please let us know and we will be happy to come to an arrangement. If you change your mind, that's okay.
Please note: These are estimates and the actual times may vary. Please Note: Due to lighting, monitor colours and camera angles, the pictures may look different than the actual item(s). The item "Rare Megalodon Shark Tooth Fossil Sharks Teeth PATHOLOGICALLY DEFORMED" is in sale since Friday, September 9, 2016.
This item is in the category "Collectables\Rocks, Fossils, Minerals\Fossils". The seller is "genuinequalityfossils" and is located in Parkwood, OLD. This item can be shipped worldwide. megalodon
Geological Era: Cenozoic
Period: Neogene
Epoch: Early Miocene to Late Pliocene
Age: 23 to 2.6 Million Years Ago
Material: Fossilised Shark Tooth
Region: U.
Location: USA
Featured Refinements: Shark Tooth
Order: Lamniformes
Family: Lamnidae or Otodontidiae
Product Type: Fossils
Era: 2000s
Genus: Carcharodon or Carcharocles