Wooden Antique Looking Megalodon Fossil Shark Tooth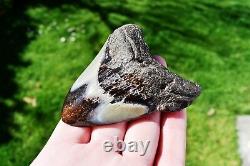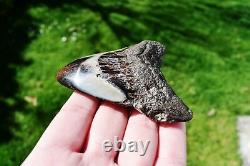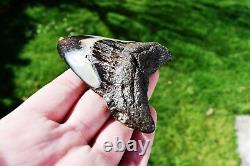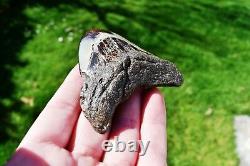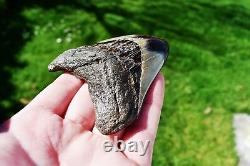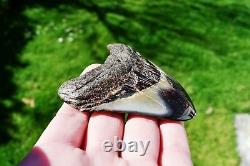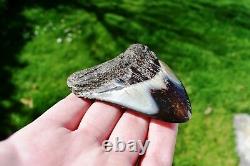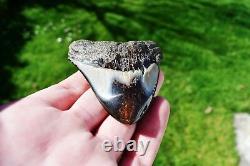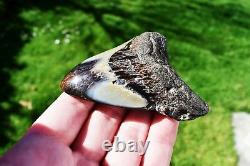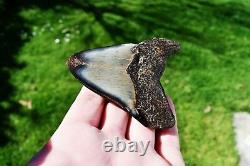 I will treat you like I want to be treated. Thank you for your interest in this beautiful Megalodon fossil.
If you have any inquiries regarding this or any of my other auctions please feel free to contact me. All payments made by the use of bank transfer will incur a discount of 2.6 percent. THis is a nice polished Megalodon fossil shark tooth.
This tooth is a great sizxe with a wonderful appearance. The root on this tooth is complete and in great shape. The surface is not smooth but the center is a good thickmess. The bourlette directly below the root is simple and darker being polished flat. It is also quite thick and looks antique. Its a nice quality in this tooth. The crown on this tooth is half polished, the upper section has it s nice light grey enamel which blends into the tip.
The tip is high polished into a nice dark brown with spray paint light browns, this is an awesome effect. The back of the tooth looks brilliant with border of the crown polised. As a full spceimen this is an attractive fossil and would be a great addition to any coleciton. I have measured the tooth.
From the left and right slant. And the widest section of the tooth. Megalodon; meaning "big tooth", from Ancient Greek: megas "big, mighty" and o (odoús), "tooth". Not only was Megalodon the biggest prehistoric shark that ever lived; it was the largest Shark in history, outweighing both the modern Sharks. Since Megalodon is known from thousands of teeth but only a few bones. Over the past century, people have come up with estimates (based n tooth size) ranging from 40 to 100 feet and weighed as much as 100 tons.
Megalodon had a diet of whales and other large marine animal. The reason the teeth fossilized is due to burial and compression. Fossils are not simply made but require specific circumstances. According to science the fossilization process was due to certain environmental change. I really do my best to make everyone who buys from me happy.
If ever I do make a mistake with someone. I will do everything within my will to rectify the situation and make it right. Express post accepted on request. Direct Bank Deposit (please leave a reference). Reasons I may not do this is because the post office may be shut or the item bought is bought to late in the day. I do not post on week ends as the post is not operational. Post transit varies depending on geographical locations, for example, it would take longer for an item to get to western Australia than it would Victoria dew to distance. All items will be posted via regular registered post. This applies to all items posted nationally. If you wish to have the item posted by a different method, please contact me and I will see it done.
Lapidary equipment is used to high polish these teeth. A method used to polish diamonds, ammonites, fossil wood & semi precious stones.
It is a time consuming procedure required to achieve the fantastic high glossy finish on these rare, very old & very fragile Sharks teeth. In many of them you will see your own reflection, of course no two are alike & are hands down the most beautiful teeth I have ever seen. The finish is smooth as glass. Pictures do not & can not do these teeth justice.
Only when one is in your hands, will you see the true beauty & the high glossy, smooth finish that will amaze yoU. I take photos of each individual tooth from multiple angles. I attempt to get as much of the tooth in direct sunlight as possible, this brings out details not seen in shadow shots.
This will also allow you to fully appreciate the fossil and make a better decision on purchasing. I use a 16mp Nikon in order to optimize photos as much as possible. I take these necessary steps in order to make you and happy and decrease error as much as possible. The anatomy of the shark tooth. The root of a tooth is located at the top (upper jaw shark tooth) and at the bottom (lower jaw shark tooth) shark tooth.
The root has two lobes which are the far right and left of the root. Directly under the root is a bourlette, this line divides the root from the crown. The crown is the majority of the tooth and it is the exposed part of a living shark and is always coated in enamel, The crown sometimes has fine serrations and they are lined on its left and right edges, the bottom of the tooth is often reffered to as the tip. An upper Shark tooth is more of a triangular shape where as a lower shark tooth is often thinner with a V shaped root. The principle shark teeth are well shaped teeth found at the front of a sharks mouth. Posterior teeth can widen in shape and are found further back in a shark jaw. Sometimes these teeth become extremely wide and short. Thank you for the beautiful specimen. The tooth arrived i thought it felt real. And looked genuine but im not experienced. With fossils so i took it in to a. I thought you might like to know that the. Paleontologist did confirm the fossil is. The item "WOODEN ANTIQUE LOOKING MEGALODON FOSSIL SHARK TOOTH" is in sale since Saturday, October 6, 2018. This item is in the category "Collectables\Rocks, Fossils, Minerals\Fossils". The seller is "snags-shark-teeth" and is located in Devonport. This item can be shipped worldwide.
Modified Item: No
Material: FOSSIL
Region: California, Florida, North Carolina , Virginia and